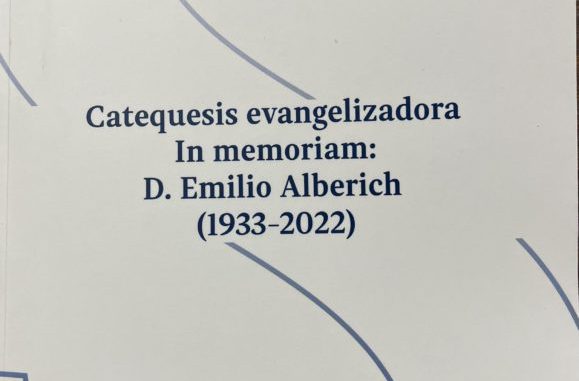 Sinite is the magazine of the Higher Institute of Religious and Catechetical Sciences "San Pío X" (Pontifical University of Salamanca). This publication is freely accessible.
On this occasion, Magazine No. 191 dedicates some articles to the person and contribution of D. Emilio Alberich, a prominent Spanish catechist, who died in Seville on September 9, 2022.
Below is a summary of the content of the Magazine.
In memory of Emilio Alberich Sotomayor. The Salesian Luis A. Gallo, a close companion of Emilio Alberich, presents in this article Emilio Alberich through some snippets of his life, his personality and his way of being, as well as some of his publications most outstanding and lines of thought of the Spanish catequeta.
The words of Emilio Alberich. Emilio Alberich has contributed to the investigation of catechetical theology and religious teaching, producing a vast literature, where his catechetical manuals stand out, in which he exposes in an orderly, synthetic, accessible and profound way the main axes of a new model of catechesis. In the writing of the magazine we have decided to listen to Professor Alberich in three interviews carried out in the years 2007, 2012 and 2013 for three catechetical magazines.
Some dimensions of religious language in Emilio Alberich's catechetical theology. This article, in homage to Don Emilio Alberich, wishes to reflect on the place of religious language in his catechetical proposal. For this, we will stop to reread his main writings paying attention above all to his proposal for adult catechesis, to delve into discovering how catechesis can contribute to the renewal of religious and catechetical language. We will begin by presenting a diagnosis of the state of religious language according to Alberich, to then investigate the author's proposal on creating an evangelizing catechesis that allows for the formation of believers with an adult faith, in human-sized communities and a renewed Church.
Nel numero di Dicembre 2022 della Rivista di CATECHETICA ed EDUCAZIONE:
EMILIO ALBERICH SOTOMAYOR – IN MEMORIAM Il pensiero Catechetico nelle interviste
Porre le basi per una "scienza" giovane: la Catechetica fondamentale di Emilio Alberich – Giuseppe Ruta
Adulti credenti e credibili si diventa! Il contributo di Emilio Alberich alla catechesi degli adulti – Jerome Vallabaraj