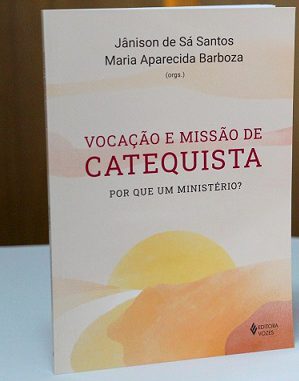 Maria Aparecida Barboza (a cura di), Editora Vozes, Petrópolis 2022, pp. 96.
With the objective of approfondire i fondamenti biblici, teologici e pastorali, Editora Vozes published the book: "Vocação e Missão do Catechista. Why a Ministry?", organized by Irmã Maria Aparecida Barboza, of the Congregation of the Immaculate Heart of Mary, and by Father Jânison de Sá Santos, assessor of the Episcopal Pastoral Commission for Biblical-Catechetical Animation, of the National Conference of Bishops of Brazil –CNB.
The work, which arrives in the physical and virtual offices of the editor in August, when the vocation of the catechist is celebrated, offers a rich, updated and solid reflection to the communities of Brazil on the Ministry of Catechists, based on the Motu proprio of Pope Francesco "Antiquum Ministerium".
According to Irmã Maria Aparecida, "it is a book to help in depth about the Ministry of Catechists. A proposta é olhar or Ministry from the sources: Word of God, a Teologia dos Ministérios, os ministérios ea liturgia; to comunidade como o lugar dos ministeri, among other topics".
The book has 96 pages, seven chapters and the contribution of nine authors, including Dom Antônio Catelan Ferreira, auxiliary bishop of the Archdiocese of Rio de Janeiro, the organizers themselves, priests and nuns. At the end of this matter, it confirms the relationship between two chapters and authors.
The work helps to overcome the vision of the ciò that a catechist is only the corso who prepares the rice for the sacraments. The horizon is greater: the concept of Ministry as an ecclesial service and also as an official service, which delivers to the Church well-prepared catechists, both not knowledgeable and not testimonial of life that they are called to offer.
"The book highlights that the greatest challenge of the catechist is to discover himself as a vocation for catechism. Até enão is dyed to catechize as a task, function. The minister is not a task, it is a vocation. The Igreja recognizes this vocation, leading the lego for the service of the transmission of faith. Another challenge is that the Dioceses form their catechists for this mission", states Irmã Maria Aparecida.
And thinking that it is not a delusion, it is that, at the end of the ogni capitolo, the authorities indicate seven questões di approfondimento delle riflessioni proposte per il lettore.
"O Catechist who receives this book receives a present. The purpose of the work is to qualify the catechist for the service of the Word: the Word that forms disciples of Jesus Christ in the ecclesial and missionary community", concludes Irmã Maria Aparecida.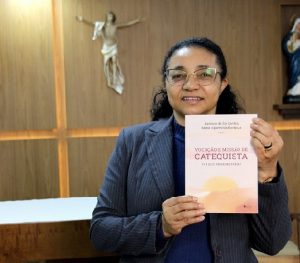 Indice
summary
Sigle, 7
Presentation, 9
Introduction, 13
CHAPTER 1
The Ministry of Catechism and the Initiation of Christian Life: prophecy, therapy and liturgy, 17
Pe. Abimar Oliveira de Moraes
CHAPTER 2
Christian communities, place two ministries, 27
Jânison de Sá Santos and Leandro Francisco Pagnussat
CHAPTER 3
A ministry that is born from the heart of the Word of God, 35
Pe. Décio José Walker and Maria Aparecida Barboza
CHAPTER 4 Theology of lay ministries: from the Second Vatican Council to the Apostolic Constitution Antiquum Ministerium, 45
Dom Antonio Luiz Catelan Ferreira
CHAPTER 5 Educating and celebrating the faith: rites and lay ministry of the catechist at the service of the Initiation of Christian Life, 53
Pe. Patrick Brandao
CHAPTER 6 How will the formation be for those who will be instituted in the Lay Catechist Ministry?, 63
Go. Sueli da Cruz Pereira
CHAPTER 7
The lay ministries for an Igreja in departure, 73
Pe. Patriky Samuel Batista Conclusione, 81 years old
Per riflettere, 85
References