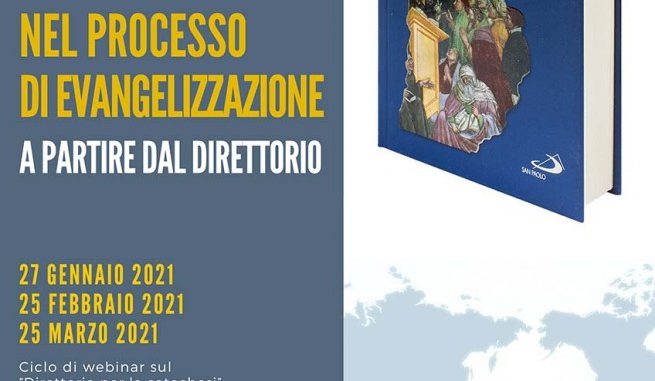 (ANS – Rome) – After having curated the monographic issue of the magazine "Salesianum" (n.4/2020) on the new Directory for Catechesis, presented to the universal Church in June 2020, the Institute of Catechetics of the Faculty of Education (FSE) of the Salesian Pontifical University (UPS) of Rome involved about 80 experts from all continents through three webinars (online seminars) of reflection and discussion on this important document published by the Pontifical Council for the Promotion of the New Evangelization.
The origin of the participants was varied and representative: Italy, Argentina, Brazil, Canada, Chile, Congo, Costa Rica, Croatia, France, Germany, Japan, India, Lithuania, Macao, Malta, Mexico, Mozambique, Paraguay, Peru, Poland, Portugal, Romania, Spain, United States, Slovenia, Ukraine, Vietnam.
The first webinar, on January 27, animated by Fr Ubaldo Montisci, Director of the Institute of Catechetics, included two talks, one by the Italian pastoralist theologian Fr Gianni Colzani, on "Evangelization and Missionary Churches in the 'Directory for Catechesis' (2020 )". The other was by Fr Miguel López Varela on the "Relationship between the Directory for Catechesis and the pastoral thought of Pope Francis". The two reports were followed by interventions by the participants.
The second webinar, led by Fr Giuseppe Ruta, took place on 25 February with the reports of the Maltese catechist Fr Carl Mario Sultana, on the theme "The relationship between the first proclamation and catechesis of the kerygmatic type", and of the theologian of the liturgy Sister Elena Massimi, FMA, on the "catechumenal and mystagogical inspiration of the new Directory". Equally stimulating were the interventions and contributions made before the two webinars and previously made available to all participants.
Finally, an appointment was made for a third webinar to be held on March 25, coordinated by the young Indian catechist Fr Christy Lourdunathan, with the aim of reviewing the reception of the new Directory in the world. It is hoped that with this third step it is possible to offer an overall overview of catechesis in the various parts of the world, in the various continental and national contexts. The five experts who are contacting each other, one for each continent, will be accompanied by the reflection on the topic by all the participants who will be able to offer their contribution through a common work guideline.
At the service of the Church and in accordance with the spirit of the Salesian Constitutions (art.34), the Institute of Catechetics of Rome continues to make its contribution of reflection and promotion for a new catechesis and a renewed evangelization of peoples, communities and men and women of this time, with a natural and congenial preference for the new generations. 
https://www.infoans.org/en/sezioni-eventi/item/12385-italy-international-webinar-of-ups-institute-of-catechetics-on-new-directory-for-catechesis